The original V6 banner, designed by Blinker and released shortly before V6's launch.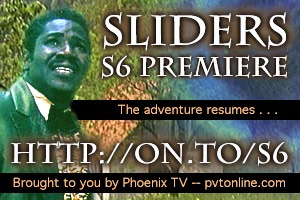 One of two ads for Resolutions Pt. 1. This one was done by Blinker and features S1 Remmy. In a sense it touches on what V6 was all about, back to the basics.

A small note, the PVT address was added after its initial design. At PVT's request, all subsequent ads featured only that address and not the direct V6 link.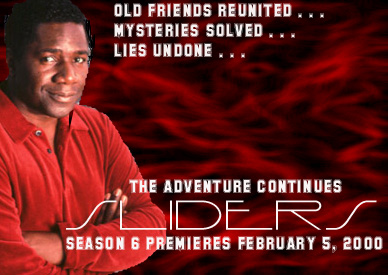 The second ad for Resolutions Pt. 1. This one was designed by myself, Chaser9. Not as nice as Blinker's, but I love the log line on it.





This was one of two ads for Resolutions Pt. 2. Another of Blinker's designs.
The Sliders chat room buzzed with speculation about the tagline, but only one person (Vigeant) guessed correctly: Diana would live, Maggie would die, and Mallory would be changed forever.





From this point out, all ads were designed by Blinker. This was the ad for the ill-fated "Burnout." The concept Blinker had for this episode was outstanding and the Quinn/Mallory situation would have been developed a bit more.





This would have been the ad for episode 4, "Illusions."





Episode 5 was to be the return of Logan - and, of all people, Bennish.





The ad for episode 6, by TemporalFlux. This was the only "unpublished episode" banner to get posted on the board, along with the author's intent to unveil it . . . one day . . .





This would have been episode 7 and the beginning of a three-part arc dealing with Colin.





Part 2 of the Colin arc. Look closely at the ad, that's Michele from "El Sid."





Ah yes, the ad for our season finale. I had already begun planning it, so we knew what it was about. The logline pretty much says it all.