Attack of the Clones
This article appears in Hotdog #40. But there's not way I have time right now to transcribe the whole thing, so these are selected highlights. Well, a couple of highlights? If you can call them that. The original article is written by Tom Hawker and is about the influx of 'himbos', generic male actors that don't seem to have a great deal of talent.
Jerry O'Connell merits a card all of his own, along with Paul Walker, Hayden Christensen, Ashton Kutcher, Josh Hartnett and Keanu Reeves (still). Others mentioned in the article include Devon Sawa, Chris Klein and sorta Freddie Prinze Jnr. Good article.
selected excert from article:
"The entirely CGI Hulk was able to look convincingly angry, sad, or straining for a dump, which is one more emotion than Jerry O'Connell in Kangaroo Jack and three more than Devon 'Pies' Sawa did in Extreme Ops (if Ashton Kutcher is the gurning Mel B of the Spice Jerks, then poor Devon is Mel C).
Wow, someone else noticed that Jerry has no emotion.
Jerry's very own Himbo card:
(I couldn't find the actual picture they used, and I don't have a scanner now.... but who cares, it's not like he looks any different anyway :-)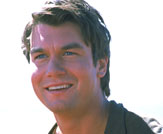 HIMBOS!
Gotta Clone 'em all!
Jerry O'Connell
AKA: Puppyfat
DoB: 17/02/74
Height: 6'3"
Origin: Camp Big Bone
Himbograhic high point: Kangaroo Jack
Characterists: Not many. Himbo's infiltration master. Puppyfat's greatest talent is to blandly disappear from your memory, even while you're looking right at him. Activate Puppyfat's 'Who...?' attack by putting him in any motion picture.
Perhaps a little cruel... but not very. Maybe sometime I'll get scans or transcribe the rest of the cards!
---
Alternate Earth 117
Back to Contents Page
Back to Articles