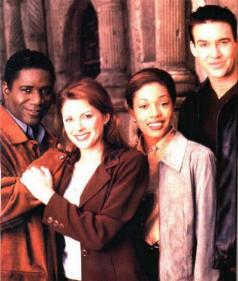 Season 5 Episode Guide
These may also contain spoilers for viewers in areas where this season has not yet been shown!
Episodes 1-10, 12-14 first shown on the US (SciFi Channel). Episode 11 first shown in Canada (Global). Episodes 15-18 first shown in the UK (Sky 1).
Regular Cast:
Cleavant Derricks (Rembrandt "Crying Man" Brown), Kari Wuhrer (Maggie Beckett), Robert Floyd (Mallory) and Tembi Locke (Diana Davis)
---
Quotes

- Little snippets of the scripts that I've picked up :-)
Mistakes

- Plot holes and inconsistencies, unliky happenings and production mistakes.
My opinions - Episode by episode. Almost done!

Short Guide - A couple of lines about each episode.
Longer Guide Quotes, mistakes and opinions can also be viewed seperately.
Episodes:
1. The Unstuck Man - Completed
2. Applied Physics - Completed
3. Strangers and Comrades - Completed
4. The Great Work - Completed
5. New Gods For Old

- Completed
6. Please Press One

- Completed
7. A Current Affair
8. Java Jive
9. The Return of Maggie Beckett
10. Easy Slider
11. Requiem
12. Map of the Mind
13. A Thousand Deaths
14. Heavy Metal
15. To Catch A Slider - Complete
16. Dust - Complete
17. The Eye of the Storm - Complete
18. The Seer - Complete
---
Alternate Earth 117
Back to Contents Page

Back to Season 1
Back to Season 2
Back to Season 3
Back to Season 4