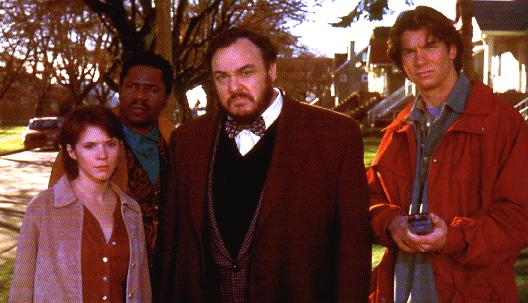 Season 3 Episode Guide
This is going to be updated as often as I can, which basically means when I have time.

Regular Cast: Jerry O'Connell (Quinn Mallory), Sabrina Lloyd (Wade Wells), Cleavant Derricks (Rembrandt "Crying Man" Brown), up to "The Exodus" John Rhys-Davies ( Prof. Maximillian Arturo) and From "The Exodus" onwards Kari Wuhrer (Maggie Beckett).

---
These sections can also be seen for each individual episode in the long guide
Cool Quotes
Mistakes


My opinions

- from most episodes seen
Short Guide


Like I said before, this could be erratically updated.
Longer Guide:
The above also applies here.
1.Rules of the Game - Completed
2.Double Cross - Completed
3.Electric Twister Acid Test - Completed
4.The Guardian - not available for this episode until repeated as I didn't get a chance to take notes.
5.The Dream Masters - Completed
6.Desert Storm


7.Dragonslide
8.The Fire Within
9.The Prince of Slides
10.Dead Man Sliding


11.State of the ART
12.Season's Greedings
13.Murder Most Foul
14.Slide Like an Egyptian
15.Paradise Lost
16.The Exodus (part 1)
17.The Exodus (part 2)
18.Sole Survivors
19.Breeder
20.The Last of Eden
21.The Other Slide of Darkness
22.Slither
23.Dinoslide
24.Stoker
25.This Slide of Paradise

---
Alternate Earth 117
Back to the Contents Page
Back to Season 1
Back to Season 2
On to Season 4
On to Season 5