Season 3 Pictures
These have mostly been scanned in from magazines, so I apologise for the creases and stuff in a few piccies. The magazine they are scanned from will always be mentioned. Cult Times, TV Zone, Starburst and X-pose can be found at http://www.visimag.com and Dreamwatch can be found at http://www.dreamwatch.co.uk. (I think!). Sorry about captions.
Click on the image for a bigger copy.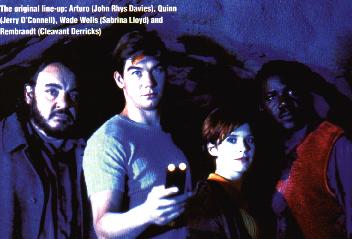 All 4 Sliders in, "The Dream Masters" (I think), episode 5, taken from ?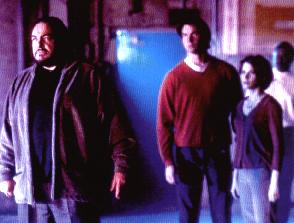 Arturo and the other sliders just before Arturo's death in "the Exodus", ep 17, taken from TV Zone 97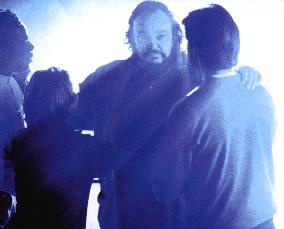 Arturo and the other sliders just before Arturo's death in "the Exodus", ep 17, taken from TV Zone 97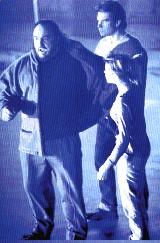 Arturo's death in "The Exodus (part 2)", episode 17, taken from TV Zone 97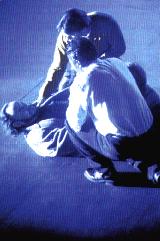 Arturo's death in "The Exodus (part 2)", episode 17, taken from TV Zone 97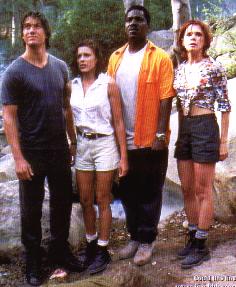 The Sliders in "This Slide of Paradise", episode 25, taken from Cult Times 35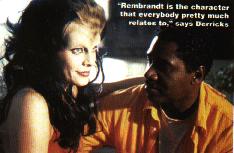 Rembrandt and a human-animal hybrid in "This slide of Paradise," episode 25, taken from Xpose' 29

---
Alternate Earth 117
Back to Contents Page
Go to Season 1 Pictures
Go to Season 2 Pictures
Go to Season 4 Pictures
Go to Non-Episodic Pictures