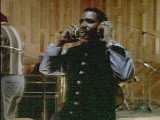 "Remmy" in the studio.



(latest news first)
---



December 18, 1999

After a long silence, I e-mailed Lexilynn again, and she told me that Cleavant's first CD, Beginnings, will be made available on the internet in the next couple of weeks! But humaggs posted on the Sliders board that it is already available for order on Amazon.com! This is exciting news indeed. The track list is:

Equally exciting was the news that Cleavant is already working on a second CD! Any news on it will be posted here and at the Sliders board.
---



May 5 - June 10, 1999


Well, folks, it's official! I received word a while back from Lexilynn that Cleavant was working on the CD, and now the Sci-Fi Channel has confirmed it!!! Check here for yourself!!!
---



April 26, 1999


Ladies and gentlemen, it looks like our efforts have paid off!!! Mr. Derricks is going to make the CD after all!!! According to Lexilynn (Cleavant's neighbor), things should be hopping soon. I'll post updates here and at the Sliders Sci-Fi bboard. We're one step closer to having Cleavant in our CD players!!!

---


This page maintained by Q-Ball79