"Any luck?" Evelyn asked while resting her head on her wrists.

Remmy slowly straightened up and sighed. He spent the time pondering his situation rather than the next step. The more he thought, the more the pain grew, and the only thing gained through the eerie silence is the growling sensation in his stomach.

"Sorry, girl," Remmy spoke. "My mind's a blank."

"Well, we can try to wait this out. Someone should be coming around here sooner or later."

"If this can be waited out." Remmy replied and sighed again. "Evelyn?"

"Yeah?"

"You said you were from... Brahms, was it?"

"Yeah... what about it?"

"Nothing particular. How'd you get here?"

"Well, I drove here yesterday... last night actually."

"A car? That's good we can-"

"No... car's dead. It was the first thing I tried. It was acting fine, in fact I had it checked a couple of weeks ago, but it just... wouldn't start."

Rembrant rubbed his temples before rising up to stretch. Suddenly, his abdomen gave a desperate groan.

"Hungry?" Evelyn chuckled.

Remmy smiled back. "Yeah... I'm surprised you aren't though."

"That's because I had a bag of Cheese Snappers before I met you." She smiled, "I picked it up at the last rest stop before hitting town. Actually, I hoped that this place had something like a lounge or a fridge... but after seeing those things outside... I decided to stay put in this room. Though, I highly doubt that this place can store food anyway."

"Well, rust and dust doesn't quite scream hospitality, but maybe ther-"

Suddenly, shuffling was heard by both of them. Which echoed through the empty hallways.

"What was that?" Evelyn asked, slightly shaky.

Remmy picked up his lead pipe. "I'm going to see..."

Slowly and cautiously, Remmy walked towards the door, gripping the pipe firmly. He poked his head inside to the barren corridor along with his small flashlight and looked around. Relying heavily on his ears, he followed the noise as it becomes louder with each step through the littered hallway, his shoes becoming clustered with fallen rust. With each step and turn in the building, the noise sounded less than shuffling and more like static. Remmy's fears grew as he cautiously walked through the building's disturbed ambience. The presence of rust covered walls and calx-ridden floors didn't help to strengthen his courage.

"What is that?"

Remmy jumped and turned around to see Evelyn huddled behind him. He took a breath and responded. "I don't know, but I'll find out in a minute. I thought you wanted to stay behind."

"Are you crazy?? I don't want to stay back there alone. I've seen too many horror movies not to know better."

Remmy took a step forward and listened. He realized that the noise was coming from a nearby door. He clipped the flashlight back on his sleeve and reached for the knob. The handle gave a sharp squeak as he gave it a twist and frightened his new companion, who moved closer to him for protection. Remmy gave the door a slight push and walked inside.

The flashlight revealed a small and almost bare interior with a ceiling so high that it was impossible to see the top with the current light, and at the far wall was a rotting plywood table sitting on rusted metal legs. The visitors' immediate attention fell on what was lying on the table; A small, black handheld radio. As Remmy approached the device, the radio squealed louder and the white noise became more cluttered.

Evelyn, being cautious, turned around and closed the door behind them. She took a couple of steps towards Remmy and suddenly felt something grip both sides of her neck. She tried to scream but the force around her windpipe was too tight. Remmy picked up the radio as it let out very high pitched wails, unaware of his friend's predicament. Evelyn suddenly felt herself being lifted as she struggled to get free. She tried punching behind her, but her fists impacted what seemed to be rusted metal. As she fought to breathe, her legs flailed wildly as she was slowly rising in the air. One foot managed to kick the closed door, which finally alerted Remmy's attention. After he swiftly turned around, his eyes widened and jaw dropped as he saw what was strangling Evelyn.

A large mound of writhing, skewered flesh enclosed in a barless, linkless scrap metal cage was dangling from the ceiling from what looked like a black tentacle. At the bottom of the cube was Evelyn, struggling for dear life while being held up by the neck by a pair of short, thin legs. She kept trying to scream and fight as her eyes met with Remmy's, but her actions proved futile.

"EVELYN!!!" Remmy yelled, gripping his pipe as he charged. But before he could take the first step, he was suddenly grabbed by the neck and lifted. As both of them struggled, the radio was getting louder by the second, spewing large and nerve-racking amounts of heavy static and white noise. Remmy used his free hand to try to pry one of the legs off but each time he tried, he could feel the appendages squeeze him tighter. He also felt something nibbling at his hair above him. As an act of desperation, he took the metal pipe into both hands and shoved it upwards towards his attacker. What followed was a steady spray of crimson fluid originating from the newly opened wound and Remmy was immediately dropped. He coughed as his lungs pleaded for air as he slowly rose to his feet. He looked up to Evelyn's legs shaking rapidly and immediately took action. He once again gripped his pipe tightly and rushed to his friend's aid, swinging the pipe at the monstrosity's mid-section. As the blow connected, the creature swung back and the grip around Evelyn's neck loosened, making her fall with a hard thud. Remmy heard a gurgling sound behind him and ducked just in time before the other creatures legs could bind him again. With adrenaline fueled by both anger and fear, coursing through his body, Remmy raised the pipe over his head and plunged it into the monster. As blood sprayed then trickled from the new opening, the creature went still and raised both legs like a robotic doll. Remmy turned his head and saw the other creature advancing towards him. He immediately side-stepped it and stabbed, this time adding all of his strength to the blow. As the pipe rammed through its middle, the creature let out an awful gurgled roar. Remmy removed the pipe and saw the monster's legs rise up like its slain partner and heard sirens wail in the distance. He dropped to his knees after his head was suddenly hit with an overwhelming feeling of dizziness. He weakly turned to Evelyn and tried vainly to call out to her, but was little strength that was applied to his voice was drowned out by the mechanical howls. His vision became blurry as he watched his new friend lying motionless on the floor. He also tried vainly to reach out to her, but ended up collapsing on the bloodstained floor, his eyes still fixed on Evelyn.

Then everything went black.










The radio crackled as Mallory and Diana ran for their lives in the bitter, unforgiving darkness. Diana tried her best to regain her footing so the both of them could run at a faster, even pace. As the pain in her ankle grew, she noticed that someone was missing.

"Maggie!" she yelled, slowing slightly.

"It's no use looking for her now." Mallory said, gripping her wrists harder. "We have to lose these things fast."

Diana noticed that a hulking figure was attempting to ambush them from a nearby street corner.

"Duck!" Diana said as she grabbed Mallory's shirt downward. The two sliders went low just in time as the creature leaped towards them with one of its massive arms outstretched. Mallory felt the wind of the missed swipe against his back and felt a heavy thud inches away from him. He quickly rose and gripped Diana's hand and resumed their retreat before the monster could stage another attempt.

"Dammit! What the hell did we do to deserve this?" Mallory thought.

Fatigue grew quickly on them as the sliders pressed on. After rounding another corner, Mallory led the doctor through the door of a nearby building. After both of them had gone inside, Mallory immediately pressed himself against the door as his lungs worked busily to regain oxygen. As Diana leaned against the nearby wall to catch her breath, she turned her head and saw only a stairway that led downward. She instinctively picked up the flashlight Mallory dropped and aimed it downward past the steps, but the powerful luminous beam wasn't enough to pierce the shadows below.

"I think we... lost them." Mallory spoke as he looked through the peephole. "Maybe we should--"

Mallory's lips stopped moving when he looked behind him.

"What the hell?"

Diana gulped hard and took two cautious steps downward, her grip tightened around the grip of the flashlight.

"What the hell are you doing?" Mallory whispered.

"I'm... going to see what's down there." Diana casually replied, her voice wavering. In her head, she was asking herself the same question.

"Haven't you learned any lessons from horror movies, Diana?"

"We don't have a choice. Plus, we have that." Diana pointed to the radio. "Even if there's something down there, that radio can sense it."

"And what would we do then?" Mallory asked, growing unnerved. "We can't run back outside."

Diana sighed and spoke. "I don't know. We may have to. It could be safe, but it can also be dangerous. But we need to go."

With a deep breath, Diana proceeded down the staircase, each step on the aged wood planks sent chills down her body as the footsteps echoed through the silent corridor. Suddenly, she felt a hand placed on her shoulder and she shrieked in surprise. She turned around quickly with the flashlight raised above her head and saw Mallory's frightened face.

"Ah! ... um... sorry about that..." he said.

Diana clutched her chest and nodded.

"Uh..." Mallory continued. "Mind if I pass you? I want to take point." Diana replied by stepping aside and hands him the flashlight before resuming the decent. "That way if we do run into something, at least you have a chance to..." Mallory just stopped in his tracks and went silent. One moment later, he started chuckling.

"What?" Diana asked, looking puzzled and nervous.

"Heh heh... sorry. I was going to say 'at least you can get help'. I've never been in a situation without a backup plan before."

Diana gave a slightly nervous chuckle. "Well, me neither... No one to call this time..."

"... Yeah... " Mallory said as he lowered his eyes.

The travel down the stairs seemed endless, the faded and chipped brown paint on the walls made it as though they were walking in a looped film reel. Mallory's and Diana's footsteps provided an unlikely rhythm to shatter the surrounding ambience, their fear increased with each step. That would have stopped them if it weren't for the growing curiosity that fueled their legs. Several minutes have passed and the light had found a patch of wooden flooring that marked the end of their trek followed by a slightly damaged beige door with a metal knob.

"You ready?" Mallory said after laying his hand on the knob. Once Diana nodded in response, he turned the knob and slowly pushed the door open. The beam of the flashlight revealed a large storage area. Mallory had taken one step when the radio gave out a small crackle and soft hissing.

"... Uh oh..." Mallory said, stopping in his tracks.

He panned the flashlight around, illuminating every part of the room slowly for any signs of a threat. The beam revealed that the walls were draped with white sheets along with what appeared to be furniture placed around the room. Also, Mallory spotted three deformed mannequins, each one had its upper torso replaced by another pair of feetless legs.

Cautiously, the two sliders proceeded through the room, looking for any other exit. Step by step, the radio raised its cry of urgency.

"Mallory... do you see anything?" Diana asked, looking in every direction in front of her for anything threatening.

The flashlight beam grazed a nearby mannequin and it suddenly came to life, kicking its upper legs forward as it walked towards Mallory.

"What the hell?!" Mallory shouted.

Shocked, Diana stumbled backwards into another statue and it responded by landing a kick on her neck, knocking her to the ground. While she was recovering she saw the creature bend down towards her, the light reflecting from its smooth, polished plastic exterior.

Mallory turned to run, but saw that his friend was in danger. Immediately, he followed his instincts and slammed the barrel of the torch on the bending monstrosity. The creature yelled in pain from mouths unknown and tried to recover, only to receive another strike from the flashlight. It fell to the ground, now sporting two bleeding bruises from its back and side. Diana immediately climbed to her feet once she saw the creature twitch violently next to her, its legs flailing and contorting in quick, disturbing ways. Mallory ran to the scientist's side.

"You o-- AH!" Mallory felt something punch his jaw, nearly toppling him. Mallory regained his footing and kicked the monster's "gut", making it fall to the floor. It didn't get the chance to flail its limbs as Mallory continuously stomped on in uncontrolled fury. The room was suddenly filled with the creature's warped yells. Diana witnessed this in shock and saw the third creature making his way towards the infuriated slider.

"Mallory!" she yelled.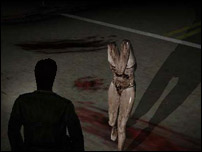 He suddenly looked up and saw the incoming monster, but slipped on the blood of his recent kill when he backed away, landing on his back. He groaned in pain as the creature walked closer, its topside legs acting like pincers.
Diana began to yell but something caught her eye. A broken, wooden table leg was lying on the floor, partially covered by a white sheet. Without hesitation, she grabbed it and made a one-woman assault towards the mannequin. It bent low, upper legs kicking in front of Mallory. He looked up to see a leg shoot towards his head when Diana slammed the table leg on the monster's upper crotch. The creature immediately turned and faced the scientist, and Mallory took this as an attack of opportunity and performed a leg sweep, causing it to crash to the ground. Without hesitation, Mallory got up and, with Diana, started stomping and kicking it until the mannequin's flailing had stopped. When the final blow was struck, sirens wailed in the distance as the room became blurry. Diana shouted at her friend, clutching her head as she saw him doing the same and falling to his knees, but her voice was mute. Mallory tried to yell for her, but all he heard was sirens as the pain of his head swelled, making him lose consciousness.










Maggie rapidly inhaled as she leaned against the door as hard as she could. After the separation with her companions, she ran a few blocks and took refuge in a nearby building. Her gasps and wheezes echoed through the room as the flashlight rolled away from her; the beam illuminating the decrepit walls and peeling paint and debris. The light stopped at a portion of the wall that is a rusted mesh iron plate, a symbol of a pyramid surrounded by two circles, strange characters and lettering engraved on it. Moments passed, and Maggie's breathing had slowed and she slowly opened her eyes. She looks at her surrounding then down at her own hands, which formed a small pool of sweat that mixed with the dust and particles on the floor. She took couple of controlled breaths of the stale air and listened intently for any incoming threats.

Nothing.

She began to retrieve her torch but stopped when she saw the engraving. Puzzled and frightened, she readily snatched her flashlight and proceeded down the nearby corridor. Her footsteps provided a deafening echo and she walked onward, the chipped paint an unwelcome addition for Maggie's allergies. The hallway stretched on for several feet and the sounds she was emanating was starting to wrack on her nerves.

"Dammit, where the hell is the door?" Maggie thought. "A door? Any door?!?"

Suddenly she noticed patch of dim red light several feet ahead of her, and it was still there after she pointed her light at it. As Maggie pressed on, she started to make out a figure standing in the crimson light. As she pressed closer, the figure simply turned right and walked away, dragging something heavy behind it.

"Hey!" Maggie yelled and she broke into a full-fledged run. "Wait!"

Her response was the echo of something scraping against concrete. Of the way she noticed a door, but proceeded down towards the hallway's end, which was stopped by iron bars. She looked passed them into another adjacent hallway, but no sign of the red light.

"Hello!" Maggie yelled. No answer. Re-collecting her bearings, she made her way back towards the door.

The following room shared the same decaying state as the rest of the building. Two scrap metal frame cubes rested on each wall, the only differences were the large metal closet resting on the left side and a rusted office desk sitting to her right. Maggie's alertness grew as her light shined from side to side, then stopping at a large cardboard box resting on the desk. Cautiously, she walked over the desk and looked inside the paper cube, and saw that it was filled to the top with newspaper scraps. She first picked up a piece and started reading, hoping for some info, but the slip didn't yield any and the remaining bits didn't look like it would help either. Hesitantly, she reached inside and started feeling around, figuring that the paper was used for packing purposes. Her hand finally stopped when she felt something cold and metallic...

... and familiar.

She grasps the object and slowly pulled it out, revealing a standard handgun. Suddenly, Maggie felt a rush of relief overtake her and check the clip. Full. 10 rounds.

"Oh thank God." She muttered as she looked over her newly found weapon. Her triumph was short-lived, however. "OK, now wh-"

Suddenly she heard a distorted yelp echoing in the room. Maggie frantically looked around, gripping the handle the handgun tight and found that the noise maybe originating from the closet. Weapon raised, she slowly made her way to the artificial space, grasps the handle, took a breath, and pulled the door open with her gun ready.

She peered inside, seeing that cabinet contained nothing but a large rusted hole in the storage box's spine as well as the wall it was placed against. Cautious, Maggie stepped forward and leaned her head through the stripped maw, followed by her torch. To her left she saw the iron bars that barred her entry from the hallway and further down were doors that were either boarded up or sealed by cement. Then she heard a warped cry of pain from her right and turned her head. He light can only reveal two doors as the rest was covered in shadow. Seeing that the coast was clear, Maggie scrambled to get herself through the opening to investigate further; the cold steel of her pistol filling her with confidence and vigor. Another cry filled the corridor, this time more intense and pain-filled.

"Hello?!" Maggie yelled as she slowly made her way down the dark hall, her pistol in one hand and her flashlight in the other. As she made her way down, she noticed the air getting staler. Also, every door she passed was crudely sealed by wooden planks. Then her eyes lingered at a rusted wheelchair resting near one of the doors. Her eyes remained there until she heard something slam against the far wall. Reminded of her mission, she pressed on and soon she found a door that wasn't boarded or sealed on her left. She stopped and listening for any other strange happenings, but can only hear some slight shuffling. As her grip on the handgun tightened, she reached out and opened the door.

What she saw next shocked her. All around her, she was surrounded by convulsed semi-humanoid figures. Half of the bodies contained four legs and no head, while the others have melted, stretched flesh for an upper torso. At the far end of the large room, Maggie saw someone wearing an extremely large red pyramid-type helmet and stained apron struggling with a convulsed flesh figure on top of a rusted metal table. The helmeted being held the figure down by the neck, standing over it as the monstrosity kicked violently in the air in protest. Maggie watched in horror as the figure's tormentor reached with its free hand on the table's side, picking up what appeared to be a large spike. Still it struggled, the flesh on its chest bobbed and stretched as it tried desperately to find freedom. In one swift motion, the spike reached a high height and then suddenly plummeted through the figure's abdomen, the sharp end also piercing through the tabletop. The mound of flesh stiffened, struggled weakly, and went limp; its legs brushing against its murderer's hips for the final time. Shocked at what she just saw, Maggie hurriedly grasped the handle and twisted it.

Locked. Surprised that the door didn't open, she continued twisting it, then starts pulling and pushing the door. The helmeted figure slowly turned towards the room's new visitor and spectator; the majority of its upper torso, including the head and neck, were obscured by the massive headgear. It then walked slowly to a nearby column and picked up a metal spear before making it way towards Maggie.

"Stop!" she yelled, raising her gun threateningly. "Freeze!"

The executioner pressed on with a turtle's pacing, ignoring Maggie's orders.

"I WILL shoot! Stop right there!"

It still pressed forward, stepping over the bodies of its previous victims. The light then revealed the dried blood that adorned the topmost part of the pole arm. Giving truth to her threats, she fired two shots at her pursuer, both hitting the massive helmet. Undeterred it still marched, now only a few feet away from the Slider.

"OK, fine." Maggie muttered, aimed for the torturer's legs and fired two more shots. The creature stumbled back a step, but quickly regained its composure and pressed on.

"Goddammit!" she yelled, firing two more bullets at its arms. The same reaction. The same recovery. As Maggie fired another shot, the executioner quickly raised its weapon and swung it at her, sending her flying towards the wall on the opposite side of the room. Massive amount of pain filled her left side, back, and head. She looked up, trying to focus her vision after the blow, to see that the executioner was still making its way towards her. Weakly, she raised her firearm and continued to fire. Two shots grazed the helmet, producing tiny sparks. The third went inside the monster's hip.

*click*

Maggie's eyes widened when she heard that sound, yet she continued pressing the trigger. A second later, the executioner loomed over her menacingly, raising its spear for the final blow. Her eyed were pooled with tears, both from the combination of the pain and the realization that her life will end shortly.

Suddenly, sirens wailed from distances unknown and the creature froze. At the same time, Maggie became very lightheaded and her vision became blurry. Through the haziness, she could see the figure lowering its weapons and turning away from her. The sirens became louder as everything dimmed. Soon, she went limp.










Jason was almost floored at how much the first level of the firehouse had changed. Gone were the dormant fire engines and supplies... and the ground. In its place was a large chasm so deep that any light had failed to penetrate. The only ground available was large, suspended chain-linked panels leading to the far end of the station. He looked over to the side and saw that the station's entrance was no longer accessible; a very large gap was between it and the nearest panel.

"Hello!" Jason yelled. No response.

His gripped his ax tightly and began to walk down the chain-linked road into the unknown. With each step, he'd grown more confused and concerned.

"What the hell is happening?" he thought. "First, Night comes in fast, then those dogs... and... Places... they just can't change so dramatically... not that fast... Am I in the same place?"

His eyes wandered to see the fire engine doors are still there, but are more rusty and hanging suspended over the chasm. Another thing that bothered him was that, before, there were only four doors when he came in. Now, there were more and the building seemed longer. As he pressed on, he started to hear additional noises. Metal tapping on metal and low growls suddenly filled the room. Panicking, Jason spun himself around and looked. The flashlight showed nothing behind him other than the makeshift floor. But the sound still persisted and it fueled Jason's fear. Without as much of a thought, he turned around and speedily pressed forward in a desperate run. Before long, he found himself before a wooden door that he did not hesitate to open and sprint through.

As soon as he entered, the noise stopped and was replaced by a new sound; a human voice, but warped. Jason listened intently, but the speech was indecipherable. Feeling dread, he panned his torch around the area, revealing the room being wider but the flooring was much more narrow, which lead to a large cement landing. A few steps later, he could make out an old mattress and blanket on the landing by the far wall. Slowly he made his way towards the landing, his ax at the ready for any surprises. Which each step, the voice got slightly louder, but still unclear. Also, the air had gotten noticeably stale, accompanied with a slightly vile stench. Soon, he stopped before the mattress and blanket, which revealed to be heavily stained, the voice revealing its presence beneath he sheet. Jason gathered his bearings, gulped, and stooped low, using his free hand to grab the topmost part of the cover. Pulling it back revealed a cassette player/radio, playing a cassette to the highest volume. Puzzled, Jason picked it up and examined it. Pressing the "Stop" button made the room silent and still. He ejected the tape, seeing that it had no label, put it back, rewound it and played it back. The same warped voice filled the air.

"Must be broken... it's stuck in reverse." He thought.

Running his fingers on the sides, he found a small level that switches between its dual functions. He started adjusting the tuner after flipping the toggle to "radio" to search for anything hopeful, but all he found was heavy static.

"Dammit." He spat. The radio went into a high squeal as something pierced Jason's back. He fell over screaming and instinctively tried to comfort his wound, but someone was trying to push the weapon in deeper. Instead, he grabbed the arm that's harming him and threw the adjoining body aside onto the side of the landing, seeing a two-foot tall figure almost careening into the abyss. Its skin had a greenish-pale hue with no eyes; in their place were crossed wrinkles and scratches. It struggled to regain itself as it mouth continued to show hideously decayed teeth of green and black. Jason hurriedly pulled out whatever stabbed him, which turned out to be an ice pick. Then he felt something else stab him as he tried to stand, this time in his left calf. Before he could defend himself, he felt another creature tackle and bit him on his shoulder.

"AAHH!" he screamed at the sudden ambush; the radio squealing loudly as if it were sharing the agony.

In a last ditch attempt to defend himself, he kicked the calf stabber in the chest, sending it flying towards the chasm. The creature that was gnawing on his shoulder felt something pierce its forehead repeatedly. With some stored strength, he was able to throw the maimed creature off of him onto the mattress. But the victory was short-lived, and he felt the first offender try to tackle him from his right. Jason struggled with the figure and was able to wretch himself free; the creature landing on its back after the scuffle. Angry, Jason took the last of his strength and raising his ax, swiftly bringing the blade down on his attacker repeatedly. After the last blow was struck, siren started sounding in the distance. Jason, overwhelmed by the pain, dropped his weapon and then to his knees.

"Wha... What is..." he wondered as felt dizzy and lightheaded; the room fast becoming a blur. Clutching his wounds, he laid his head on the blood soaked concrete and fell into unconsciousness.