Did You Know?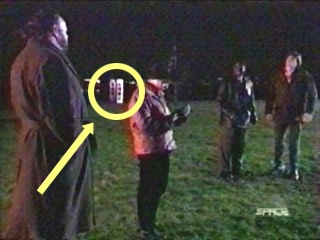 The word "telephone" is made up of two Greek words: "Tele," meaning "The bald guy from Kojak," and "phone," meaning "something you use to call people with."
Remmy's catch phrase "phreakin'" is in fact a reference to "phreaking," the activity of hacking into phone networks to play pranks and procure free service. Thus, when the Cryin' Man exclaims "phreakin' great" in "Caliphonia Reich," he is expressing his hope that the others will distract the camp guards by requesting the whereabouts of one 'I. P. Freley,' or perhaps 'Mike Rotch.'
The telephone was invented by Alexander Graham Bell.
The first letter in "telephone" is "t."
When using a telephone, it is customary to speak into the end next to your mouth and listen to the part next to your ear.
The British series Doctor Who featured a character who traveled through time -- you guessed it -- in a scarf.
"Please Press One" was originally intended as a romance between Maggie and a phone. However, the writers decided it would be straining credibility too far to make Maggie the focus of a tender love story.